Hey friends!
I know I said I was going to stop with all the giveaway's, so when I was asked to review this children's book, initially, I was hesitant. Once I heard however,  what they are doing for children in need with the book, my heart soared and I jumped on the opportunity to be a part of it.  And guess what?
Not only is the book a fun way to help build your kids brain by sneakily helping them learn to read, a cool way for them to develop hand strength and fine motor skills, but it's also a great source of distraction while you take a 5-minute "mommy-break."
But my FAVORITE thing about this freakin' book, is that EVERY TIME someone purchases the book for $9.99, the creators of the book will gift a copy to a child in need.  These recipients are in foster homes, hospitals, etc.
So every time you hear your child giggling while coloring, you know that somewhere, a child in need is laughing and coloring too – how amazing is that?! That seriously makes my heart so happy.
The Book.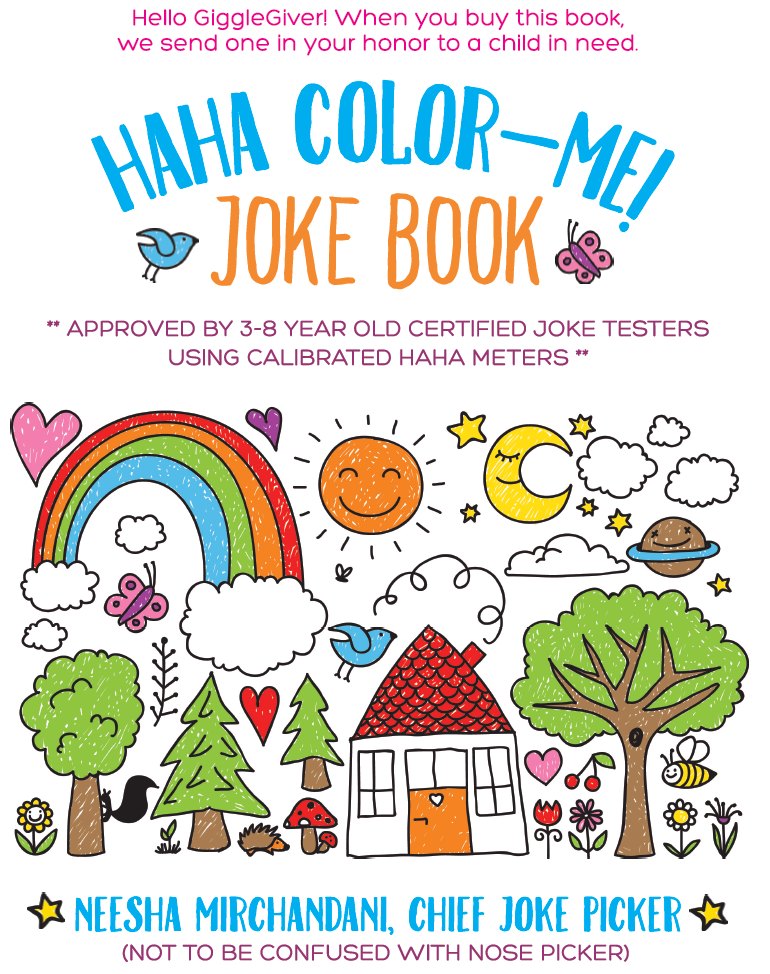 The Ha Ha Color-Me! Joke Book was created by Neesha Mirchandi, and it's a children's book unlike any other.  Most of the pages contain a silly joke and a fun picture for the kids to color, but there are also pages containing only jokes – and a blank spot for your child to draw his/her own picture.  There are even a few pages in the back for your littles to write their own jokes!
Unfortunately, my 6-year old was at her grandparent's house when I busted out the copy they sent me to review.  So my "book-tester" group consisted of a 3-year old, and a 1 & 1/2 year old.
When I opened the book and laid it on the table in front of them with crayons, they pounced on the crayons like ravenous sharks and immediately crawled up onto the table.
Initially, they played tug-of-war with the poor book (surprisingly it held up), until I kindly explained that they were to share, and if they couldn't, than I would beat them with it. (Just kidding.)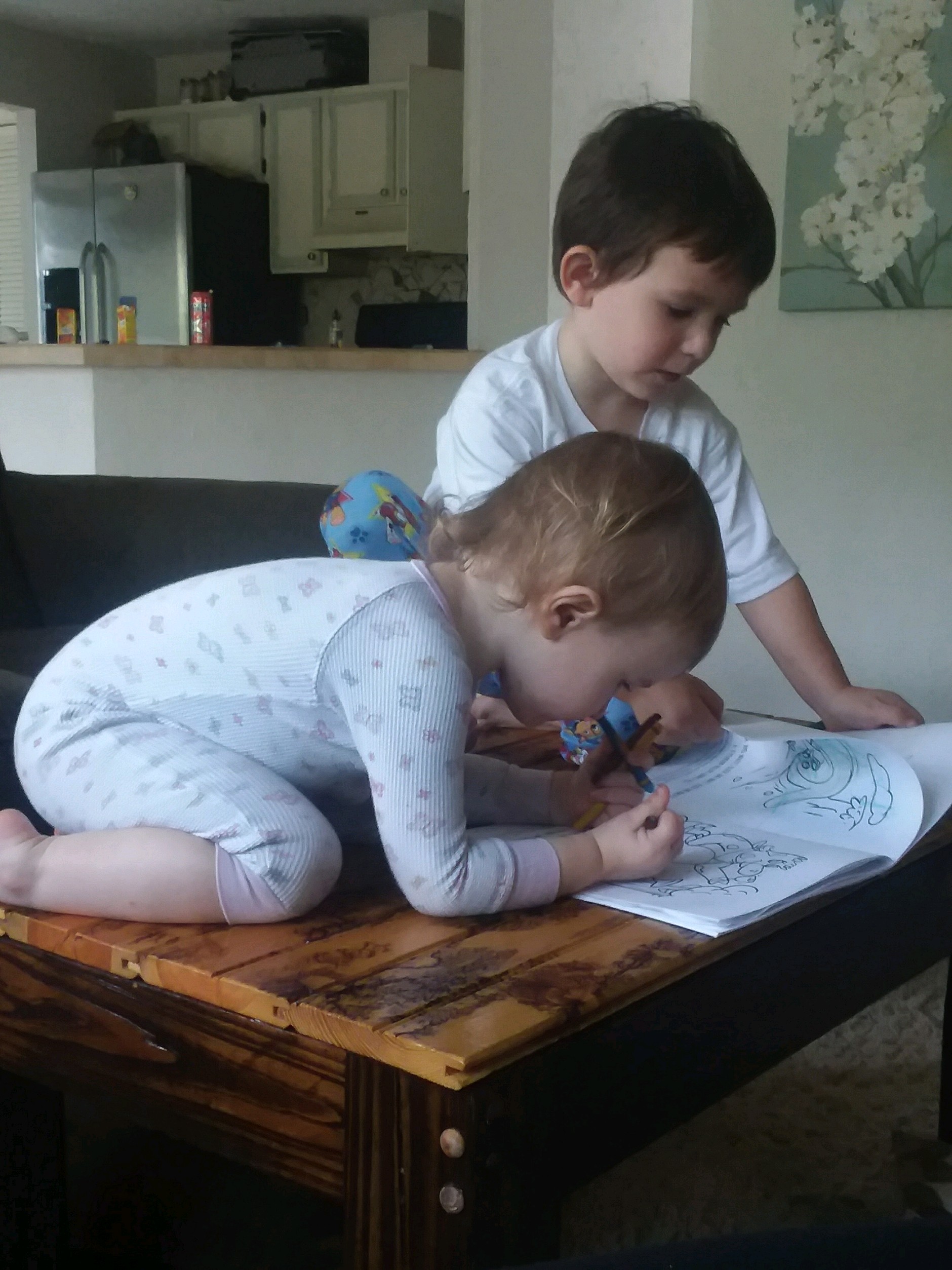 There were a solid 45 seconds of sharing before I had to jump back into the ring and break them up again. (Next time, I will order two books since they are so young, but knowing that two other little kids somewhere will get books as well, makes me feel a lot better about spending the money.)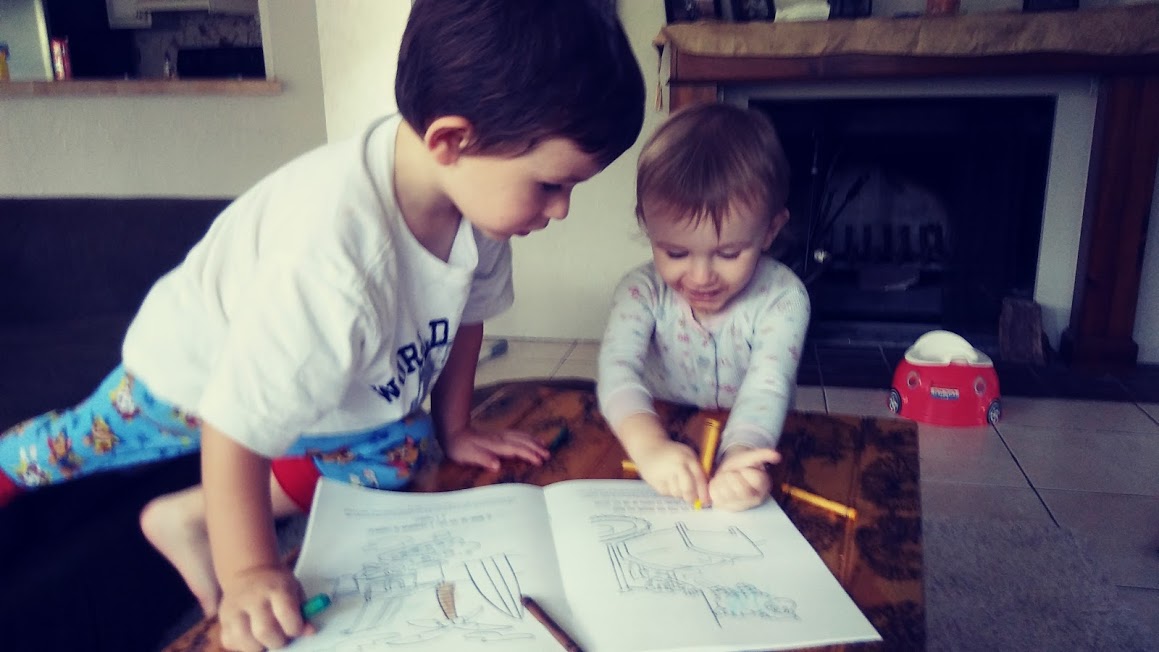 Anyway, while they were too young to grasp the humor in the joke portion of the book, they thoroughly enjoyed coloring the pages, (and the table, and the carpet.) When Aubrey comes back home tomorrow I will have her test the joke portion of the book and will update the post to reflect her verdict.
All-in-all, it's a cute book and the kids had fun, but the very best part of this experience was knowing that the amount of fun they had was DOUBLED, because a child in need somewhere in the world got to experience the same joy they did.
Guess what?! I have an extra copy up for grabs for one of YOU to win!
To enter, just click the link and answer my prompt question, that's it!
http://www.rafflecopter.com/rafl/display/cbf8d1bb5/?
Winner will be chosen on 10/17/2017.
If you can't wait to get your hands on a copy, head over to their website and pre-order yourself one of these bad boys.
I feel it's important to note that I was not paid, or persuaded to say any of this.  I really love the idea of cheering up children in need, and if we can make our own kids giggle, while helping other kids do the same – than that is something I can definitely help spread the word about.